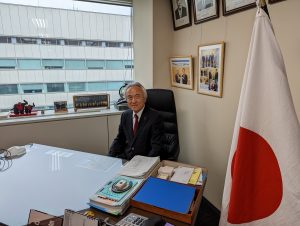 Message from
Dr. Isao Kurauchi
President Elect of FAVA and Chair of FAVA Congress 2022, Fukuoka, Japan
"Overseas travels resume in many countries. Japan will reopen to tourists from June 10. We welcome the reduced barriers to participation in the FAVA Congress in Fukuoka in November. The super early bird registration ends on August 1. Please register at our best rate. I wish you all good health and look forward to seeing you there."
www.fava2022.com/en
Important Information:
Call for Abstract
Abstract submission deadline is extended until June 10, 2022.
https://fava2022.com/en/call-for-abstract.html
Hotel list
The hotel list and their prices are available on the congress website.
The price starts from 7,500 JPY per night.
https://va.apollon.nta.co.jp/fava2022/shukuhaku
Travel information
The Japanese government will renew its overseas travel policy on June 10.
https://www.mofa.go.jp/ca/cp/page22e_000925.html
Noted that 74% of FAVA members can now visit Japan without a quarantine period.
However, a PCR test prior to flight is still required for all travelers.