FAVA- OIE Collaborate with Faculty of Veterinary Science, Chulalongkorn University in the platform of the Initiative project on the Guideline of the Understanding Framework on the Veterinary Profession in ASEAN (GUFVA 2014), Bangkok Thailand
during 25-27 June 2014
In 2015, the AEC will be started, that we should be readiness for the change in many aspects. This is in the view of trade preventing diseases in the region and health concerns resulting from zoonosis, food borne diseases and for enhancing food safety and food security. In order to improve the efficiency and competitiveness of the skilled and professional will be concerned. The scope of the services among ASEAN will be under the General Agreement on Trade in Services (GATS). There are 7 professional services are in the ASEAN Mutual Recognition Arrangement (MRA) on the professional services. That is also related to the veterinary profession which is required from ASEAN countries. The Intiating an MRA for the veterinary profession could emanate from the member countries through relevant and competent authorities. In order to facilitate and address on this starting point of the veterinary profession among ASEAN. It was honored to welcome the 17 representatives from ASEAN members. The meeting was held during 25-27 June, 2014 at the
Faculty of Veterinary Science, Chulalongkorn University, Bangkok, Thailand. The meeting was supported by Innovative Thai-ASEAN Academic Co-operation at Chulalongkorn University: ITAAC@CU) Faculty of Veterinary Science, Chulalongkorn University.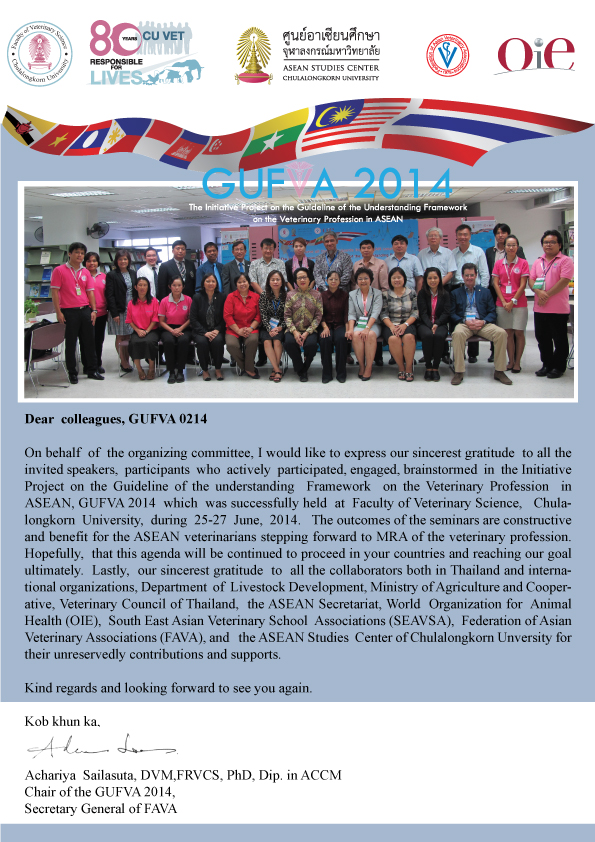 https://www.favamember.org/wp-content/uploads/2016/01/ASEAN-GUFVA-2014-1.jpg
500
1500
favamember
https://www.favamember.org/wp-content/uploads/2016/01/Fava-logo-head.png
favamember
2016-01-18 14:22:35
2016-07-04 17:04:19
ASEAN GUFVA 2014